In this article, we are going to learn how to install Arch Linux. The latest version of the Arch Linux operating system for desktop PCs and laptops is Arch Linux 2022. X.X. It comes every month with new updates security and maintenance updates.
System Requirements
2 GHz dual-core processor
512 MB RAM (recommended 2 GB)
2 GB of hard-drive space (recommended 20 GB for basic usage with a desktop environment)
VGA capable of 1024 x 768 screen resolution
Either a CD/DVD drive or a USB port for the installer media
Internet access is required.
How to install Arch Linux
There are two ways to install Arch Linux:
Without the guided installer
With the help of Archinstaller (guided installer)
Download the Arch Linux
So first of all you have to download Arch Linux 2022 from the official website. If you are an existing Arch user, there is no need to download a new ISO to update your existing system. You may be looking for an updated mirror list instead.

Make Bootable USB Drive
After downloading the ISO image of Arch Linux, you have to make a bootable USB drive. So you can install arch Linux on your laptop/PC. So you can make the bootable drive using third-party applications or you can also make it by the terminal in the Linux distro.
Third-party Applications
Rufus  [Download from here]
balenaEtcher or many more. [Download from here]
How to Install Arch Linux
Boot from the live USB
Boot with the last Arch Linux image with a bootable USB device. You should see the screen below as it begins the installation process. Choose "Boot Arch Linux" and hit enter.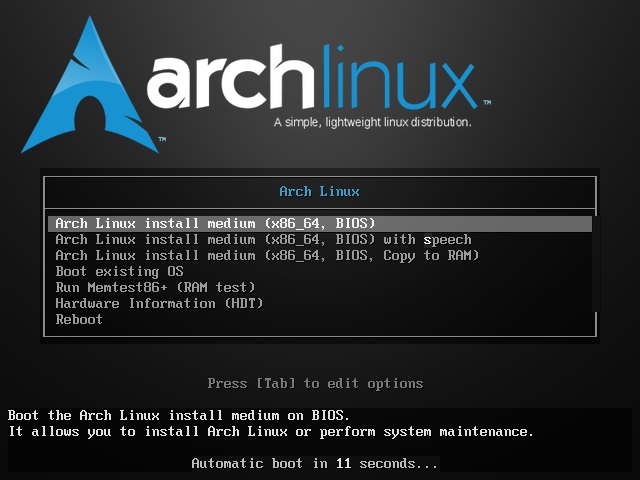 Install arch using official script
The archinstall package is part of the live medium and can be run directly:
# archinstall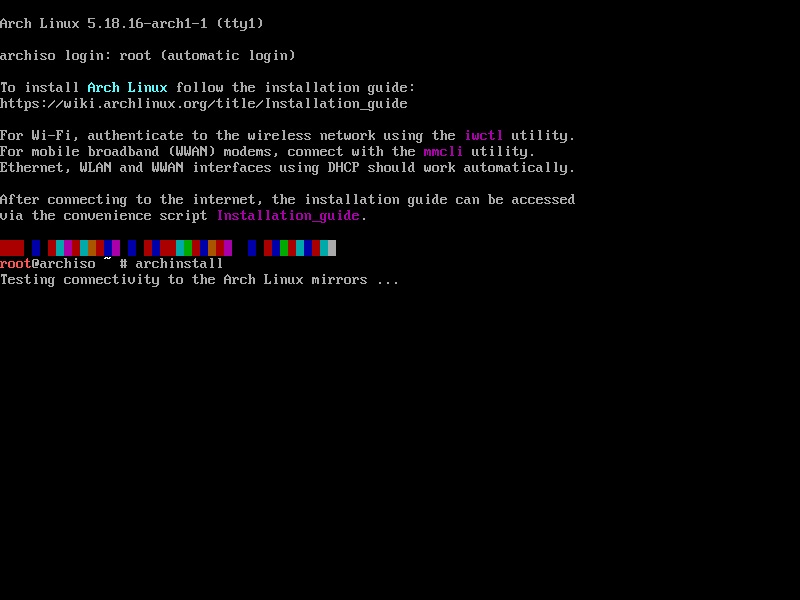 The guided installer will perform (query) the following steps:
Configure the locale;
Select the mirrors;
Partition the disks;
Format the partitions;
Enable disk encryption (optional);
Set the hostname;
Set the root password;
Install a boot loader.
Note:- You have to select the options one by one and press the enter key. The space key for selecting the options and enter for selection and for exit from the option. Follow the am process to all.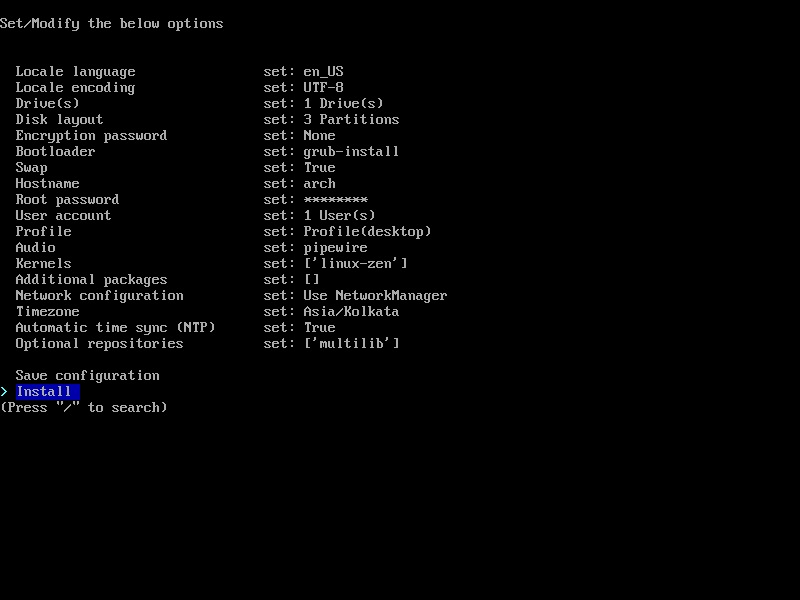 Warning: Leaving the root password blank disables the root account, using sudo for privilege escalation. As this may cause you to lock yourself out of your system, this is generally not advised.
Additional packages can be installed by specifying them after the Write additional packages to install prompt.
Once the installation is complete, green text should appear saying that it's safe to reboot, which is also the command you use to reboot.

Arch Linux Installed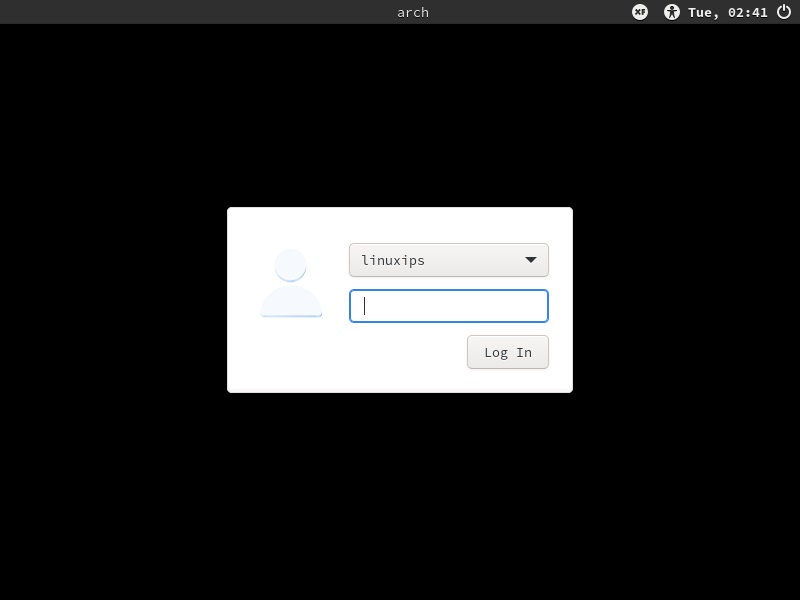 Conclusion
Arch Linux is the most popular Linux distribution in hardcore Linux users. With this step-by-step tutorial, you have installed arch Linux on your system. This is the official script for installation of arch Linux. Next, you may want to look into our other guides for installing software on arch Linux or learning how to use some of its most popular commands.
Related Linux Tutorials: